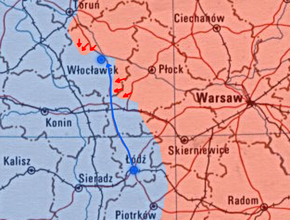 Background
It's early October, 2015 and the Eastern CSTO powers are sweeping across Europe with Russia at their forefront. Poland is divided in half, and NATO must desperately make a stand against the Russians. NATO forces plan to make a stand in two cities in central Poland, Lodz, and Wloclawek, however the forces in Wloclawek are woefully under strength for the impending siege. While Russian anti-air assets have been neutralized, there is not enough time to organize an airlift, so a ragtag logistical convoy in Lodz has been assembled to carry supplies of all kinds up to the troops in Wloclawek. Russian forces will soon encircle Wloclawek, and it is likely that part of the encircling force will run into the NATO convoy before they can reach Wloclawek. Although resources are limited, all available assets are tasked to protect the Wloclawek-bound convoy.
Organization
Edit
US Army Forces:
A Co - Armor
4 M1A2 Abrams</li> </li>
C Co - Mech Infantry
5 M2A2 Bradley</li>
5 Squads of Dismounts</li> </li> </li>
56th SBCT, PA National Guard
2nd Plt, B Co - Mech Infantry
4 Stryker ICV</li>
1 Stryker ESV (Route Clearance)
</li> </li>
290th MP Company, MD National Guard
1st Platoon - Light Infantry
1 HQ HMMWV</li>
4 M2 HMMWV</li>
2 Mk19 HMMWV</li> </li> </li>
Ad Hoc Logistics Convoy
~50 Vehicles</li> </li>
Papa Flight, 81st Fighter Squadron, Callsign "Warthog"
2 A-10 Thunderbolt</li> </li>
Alpha Battery, 2nd Artillery Battalion, 3rd Armored Division, Callsign "Firestorm"
4 M109A6</li> </li>

Russian Federation Forces:



1 T-90 HQ</li>
1st Platoon
5 T-90</li> </li>
2nd Platoon
3 T-90</li>
1 ZSU-23-4</li> </li>
3rd Platoon
3 T-90</li>
1 ZSU-23-4</li> </li>
Scout Platoon
4 BRDM-2</li>
2 AT BRDM</li> </li> </li>
1st Motor Rifle Company, 3rd Guards Brigade
2nd Platoon
7 BMP-3</li>
7 Infantry Squads</li> </li>
4th Platoon (support)
4 BMP-3</li>
4 Heavy Weapon Sections</li> </li> </li>
Initial Deployment
Edit
The US began the battle with a remnant force from the 3rd Armor dug in at a small garrison between two villages. The Convoy is to approach from the south and move northward along the main road. The Russians do not begin the game on the battlefield, but will be approaching from the East.